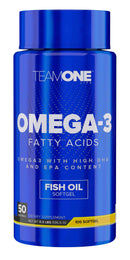 Description
OMEGA3 WITH HIGH DHA AND EPA CONTENT
EPA and DHA are important types of Omega-3s that play different roles in the body. They can be found in oily fish such as salmon and mackerel, but many people do not consume the recommended intake through food alone.
 
"Good" fatty acids such as EPA and DHA contribute to the normal function of the heart and to the protection of the nervous system.
 
The beneficial effect is obtained with a daily intake of 250mg of EPA and DHA.
-
Consume 1 capsule two times a day with food.
Oil, Capsule Shell (Gelatin, Glycerin, Purified Water), Antioxidant (DL-α-tocopherol).
Keep out of reach of children. This product is not a food substitute or replacement. Use this product to supplement a balanced diet.
Use no more than the recommended dosage. May have an adverse effect on activity and attention in children.