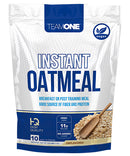 Description
Description
Start Your Day Right with Our Nutrient-Rich Instant Oatmeal Supplement
Looking for a quick, wholesome, and delicious way to kickstart your mornings? Our Instant Oatmeal supplement is the answer. Packed with essential nutrients, fiber, and natural goodness, it's the perfect breakfast choice to fuel your day and energize you from sunrise to sunset.
Why Choose Instant Oatmeal?
Oatmeal has long been recognized as a breakfast superfood. Our Instant Oatmeal supplement takes the goodness of oats to the next level by providing you with a convenient and nutritious way to start your day. Whether you're a busy professional, an active parent, or a fitness enthusiast, our instant oatmeal is your go-to solution for a balanced and satisfying breakfast.
The Benefits of Our Instant Oatmeal Supplement:
Quick and Convenient:

 

Prepare a wholesome breakfast in minutes with our instant oatmeal, perfect for those hectic mornings.
Nutrient-Packed:

 

Packed with vitamins, minerals, and fiber, our oatmeal provides sustained energy and supports overall health.
Heart-Healthy:

 

Oats are known for their heart-healthy properties, helping to manage cholesterol levels and promote cardiovascular well-being.
Versatile and Delicious:

 

Customize your oatmeal with your favorite toppings, from fresh fruit to nuts and honey, for a truly satisfying meal.
Why Choose Our Instant Oatmeal Supplement?
At TeamOne, we're passionate about helping you make healthier choices without sacrificing taste or convenience. Our Instant Oatmeal supplement is made from high-quality oats and is free from artificial additives or preservatives. We believe in providing a nutritious breakfast option that aligns with your wellness goals.
Key Features of Our Instant Oatmeal Supplement:
Variety of Flavors:

 

Choose from various delicious flavors to suit your taste buds.
Single-Serve Packets:

 

Each packet is perfectly portioned, making it easy to control your serving size.
Perfect for On-the-Go:

 

Ideal for busy mornings, office snacks, or pre-workout fuel.
Join the countless individuals who have made our Instant Oatmeal supplement a part of their daily routine. Enjoy a satisfying and nutritious breakfast that sets the tone for a productive day.
Ready to upgrade your breakfast game? Order our Instant Oatmeal Supplement today and experience the convenience and goodness of a hearty morning meal!