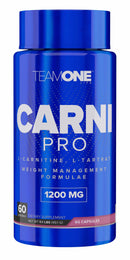 Description
Carni Pro capsules contain an impressive profile of L-Carnitine and L-Tartrate, the purest form available. Carni PRO was designed for athletes who are looking for effective help to fulfill their fitness goals. Carni Pro capsules offer safe and effective weight management support.
Take two capsules every day 30–60 minutes before your workout. On rest days take two capsules before your meal.
L-Carnitine L-Tartrate, Bovine Gelatin (as capsule shell), Anti-Caking Agent (Magnesium Stearate), Color (Titanium Dioxide).
Keep out of reach of children. This product is not a food substitute or replacement. Use this product to supplement a balanced diet.
Use no more than the recommended dosage. May have an adverse effect on activity and attention in children.