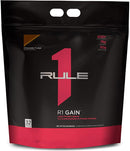 Description
About this item
Rule 1's Lean Gainer: Protein-centric formula with up to 540 high-quality calories per serving and packed with naturally occurring amino acids for high-quality gains.

Quality Calories: Sustained energy from 75g of complex carb blend.

All Whey Protein: 50g of premium, primarily isolate, whey protein.

Amino Acid Packed: Naturally-occurring BCAAs and other key amino acids for muscle repair and recovery.

Clean Manufacturing: R1 Gain is proudly made in our own state-of-the-art GMP certified facilities in the USA and produced clean, with no banned substances.

A Wide Variety of Sizes and Flavors: R1 Gain is produced in 5 and 10 pound sizes and in 5 flavors, from delicious basics like Chocolate Fudge and Vanilla Crème to more adventurous flavors like Strawberries & Crème.

Directions: Mix two (2) scoops of R1 Gain with approx. 14-16 oz. of water, milk or your favorite beverage in a shaker cup or glass for a delicious shake. Or add your favorite fruit and ice to the above, mix in blender and enjoy as a smoothie!