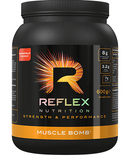 Description
Reflex's powerful pre-workout, scientifically formulated to get you mentally and physically ready for action. Not only have we formulated one of the most potent pre-workouts on the market, we believe we've made the best tasting - launching in 3 explosive flavours: Lemon Sherbet, Twizzle Lolly and Sour Apple. Expertly crafted for the dedicated and the driven, this pre-workout powerhouse is designed to STIMULATE, PUMP and increase ALERTNESS.
STIMULATE YOUR POTENTIAL
With a huge 350mg hit of caffeine, The Muscle Bomb delivers a powerful energy kick, just when you need it most. Combat tiredness and fatigue and achieve unstoppable drive*. Smash every set, conquer every challenge, and power through with unmatched intensity.
GET YOUR PUMP ON
Unleash the pump like never before! The Muscle Bomb is packed with 9g of Citrulline Malate (6mg of active Citrulline), the Citrulline which is broken down to Arginine in the kidneys. Arginine plays a key role in the production of nitric oxide, which widens blood vessels, improves blood flow and floods your muscles with nutrient-rich blood (1). Feel the rush as your muscles swell, delivering a pump that showcases your hard work.
ALERT MIND, INTENSE FOCUS
Achieve enhanced concentration and focus** with The Muscle Bomb's unique blend of vitamins, minerals and caffeine. Allowing you to channel your energy precisely where it matters most.
REFERENCES
1 - Fornaris E, Vanuxem D, Duflot J. Pharmacoclinical approach of citrulline malate activity: Analysis of blood lactate during a standardised exercise. Gaz Medicale 91: 1–3, 1984. Cited by Gonzalez, Adam M.1; Trexler, Eric T.2. Effects of Citrulline Supplementation on Exercise Performance in Humans: A Review of the Current Literature. Journal of Strength and Conditioning Research 34(5):p 1480-1495, May 2020. | DOI: 10.1519/JSC.0000000000003426
* Vitamins B6 & B12 contribute to normal energy-yielding metabolism and reduction of tiredness and fatigue. **Caffeine contributes to increased alertness and improved concentration.
Mix 10 g (1 level scoop) in 200 ml or 20 g (2 level scoops) in 400 ml of cold water. Do not take more than 20 g as a serving per day. Important: Please assess your tolerance before using The Muscle Bomb® as part of your diet and training regime. To do this, please start by consuming a standard (10 g) serve.
Use in conjunction with food as part of a healthy and varied diet, not as a substitute for such. Recommended consumption is up to 20 g of product in a day. Do not exceed the stated recommended daily dose. High caffeine content. Do not exceed 400mg of caffeine per day. If any adverse effects are experienced, discontinue use and seek advice from a health professional. Not recommended for children or pregnant or breast-feeding women. Keep out of reach of young children.