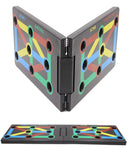 Description
【MULTIFUNCTION】— Power Press Push Up is a versatile color-coded push-up board system. Different color-coded target specific muscles (blue for chest, red for shoulders, yellow for back, and green for triceps). The two handles can be switched to multiple positions and angles to exercise the upper body muscle groups. Burn calories and lose weight for effective physical training.

【HIGH QUALITY】-- One push up board and two handles are made of high-density ABS material, which is tough and not easy to break or damage, and is durable.

【2020 UPGRADE】-- The upgraded 12-in-1 design is extremely simple and easy to use, just plug the handle into the desired color-coded position and use it to help shape and maximize your chest, shoulders, back and triceps. Whether you are a beginner or an advanced athlete, it will help you achieve your goals.

【FOLDABLE】-- Foldable design, small in size, easy to carry and store. You can take it with you anywhere, such as home, office, school, and park outdoors, etc. Meet your fitness needs anytime, anywhere.

【WITH HANDLE COVERS】-- The handles are non-slip design to ensure comfortable and safe movement. The intimately equipped handle covers (super soft) allow you to strengthen your sports and care for your hands. Suitable for all men and women, boys and girls.