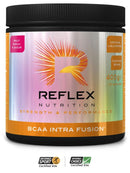 Description
What is BCAA Intra Fusion®?
BCAA Intra Fusion® is an intra-workout product delivering a high-level of Branched Chain Amino Acids, L-Glutamine, vitamin B6 and potassium.
About 35% of muscle protein is comprised of BCAAs, so it is important to have enough available in your body when you are trying to gain and/or maintain muscle. Amino acids are the building blocks of protein which contributes to a growth in and the maintenance of muscle mass.
Who is it for?
Anyone who frequently exercises and is looking for an intra-workout product in order to take full advantage of Branched Chain Amino Acids to grow and maintain muscle mass. It's also suitable for vegetarians.