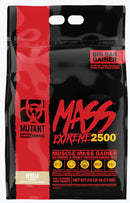 Description
Mutant Mass Extreme 2500 is a high-calorie weight gainer supplement designed to help individuals gain mass and build muscle. It contains a unique blend of proteins, carbohydrates, and fats, including whey protein concentrate, micellar casein, sweet potato, and avocado oil. With 1,270 calories per serving, Mutant Mass Extreme 2500 is a convenient and efficient way to meet your daily calorie and macronutrient needs.
Storage: Store Mutant Mass Extreme 2500 in a cool, dry place, away from direct sunlight. Keep out of reach of children.
Warnings: Do not use Mutant Mass Extreme 2500 if you are pregnant or nursing. Consult your healthcare provider before using this product if you have any medical conditions or are taking any medications. Discontinue use and seek medical attention if you experience any adverse reactions.
Recommended use:
Mix four scoops of Mutant Mass Extreme 2500 with 16-20 ounces of cold water or milk. Shake well and consume once or twice daily, in addition to your regular meals and exercise program. Adjust the amount of liquid to achieve your desired consistency and taste.
Ingredients:
Maltodextrin, Waxy Maize, MCT Oil (Fractionated Coconut Oil), Waxy Barley Starch, Sweet Potato, Avocado Oil Powder, Coconut Oil Powder, Whey Protein Concentrate, Micellar Casein, Milk Protein Concentrate, Calcium Caseinate, Pea Protein Isolate, Cocoa Powder, Natural and Artificial Flavors, Sodium Chloride, Potassium Citrate, Sucralose, Acesulfame Potassium.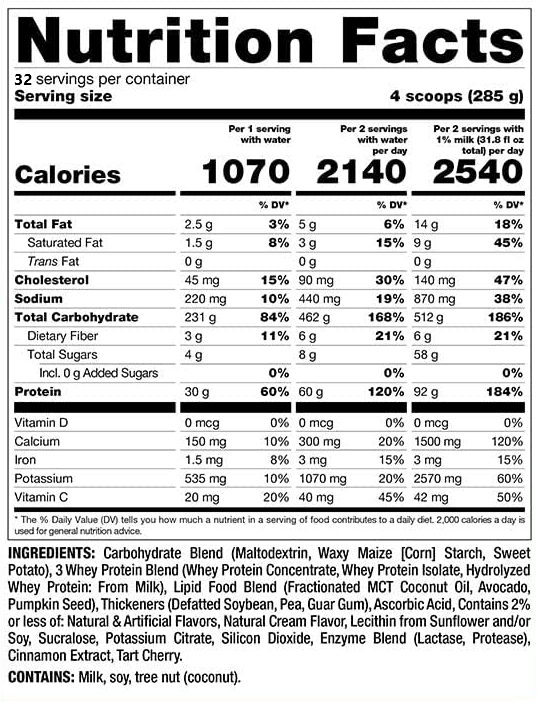 M