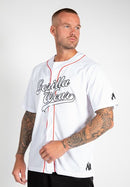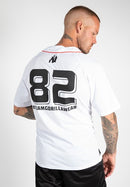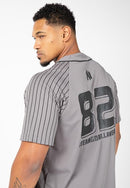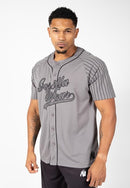 Description
82 Jersey
The 82 Jersey is a traditional Baseball Jersey which shows off the ultimate Gorilla Wear lifestyle. It entails a 3D Gorilla Wear old school print on the front and a 3D matte raised 82 logo on the back. We had your total comfort in mind when we designed this lightweight jersey. It has a loose tapered fit which keeps you comfy at any time of the day no matter if you want to wear it to the gym or just simply out and about. This Jersey is part of the Gorilla Wear 82 Collection.
Size and Fit
Model is wearing: Size M
Model's height: 184 cm
Model's weight: 86 kg
About Gorilla Wear
Since the 80's Gorilla Wear is a legendary American worldwide bodybuilding and fitness lifestyle brand "for the motivated". Every style of apparel is designed for motivated and demanding athletes everywhere in the World. It is unique, it will fit, it will not break down and it will give you the authentic and individual look your body deserves!
Quality: Polyester, knitted