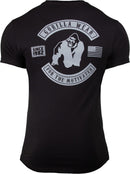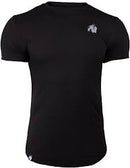 Description
Detroit T-shirt - Black
This modern fit Gorilla Wear T-shirt is developed from high cotton material for a perfect fit around your body. The Detroit T-shirt is designed with a logo on the front and has a big Gorilla Wear logo on the back. This t-shirt has a casual style. In addition, it can be combined with different pieces of our Gorilla Wear men's collection. It's time to show the people that you are a member of the GORILLA WEAR Family where you can choose between the colors Black, White, Navy, and Army Green.
Check the size chart to find your perfect fit! Click here to open size chart.
About Gorilla Wear
Since the 80's Gorilla Wear is a legendary American worldwide bodybuilding and fitness lifestyle brand "for the motivated". Every style of apparel is designed for motivated and demanding athletes everywhere in the World. It is unique, it will fit, it will not break down and it will give you the authentic and individual look your body deserves!
Art.no. 90529900
Color: Black
Quality: 100% Cotton