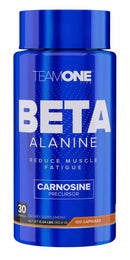 Description
Beta-Alanine is a naturally occurring beta amino acid which is not found in major proteins and enzymes. It is a level limiting precursor of carnosine found in larger concentration of skeletal muscle (primarily in type two fast twitch muscle fibers). We primarily recommend use before an endurance workout, or for those who seek a clean formula that can be combined with our other supplements to create a specific nutrition in line with your objectives. Take Beta-Alanine capsules before a workout to enhance your performance.
We recommend to consume 2 capsules before and after your workout.
Beta-Alanine, Bovine Gelatin (as capsule shell), Anti-Caking Agent (Silicon Dioxide), Color (Titanium Dioxide).
Keep out of reach of children. This product is not a food substitute or replacement. Use this product to supplement a balanced diet.
Use no more than the recommended dosage. May have an adverse effect on activity and attention in children.