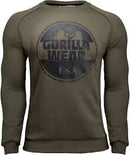 Description
Bloomington Crewneck Sweatshirt - Army Green
This Bloomington Crewneck Sweatshirt is mainly designed for style, craftsmanship and fit, what that really means is that they're made to last. This Sweatshirt is made of high-quality durable fabric with lightweight comfort, which provides the user with exceptional warmth wherever the user goes. This Gorilla Wear USA Sweater is a timeless product, in addition, it is built with superior construction. It's time to show the people that you are a member of the GORILLA WEAR Family where you can choose between the colors Army Green and Mixed Gray.
Check the size chart to find your perfect fit!
About Gorilla Wear
Since the 80's Gorilla Wear is a legendary American worldwide bodybuilding and fitness lifestyle brand "for the motivated". Every style of apparel is designed for motivated and demanding athletes everywhere in the World. It is unique, it will fit, it will not break down and it will give you the authentic and individual look your body deserves!
Art.no. 90714400
Color: Army Green
Quality: 80% cotton + 20% polyester.